Physical therapy in the center of Würenlos.
The practice is located in the center of Würenlos at Juchstrasse3, just a few hundred meters ahead of a doctors clinic. This is the side street off the main road- "Landstrasse", there is also a SEAT saloon on the corner. The bus stop "Post" is only 2min walk away.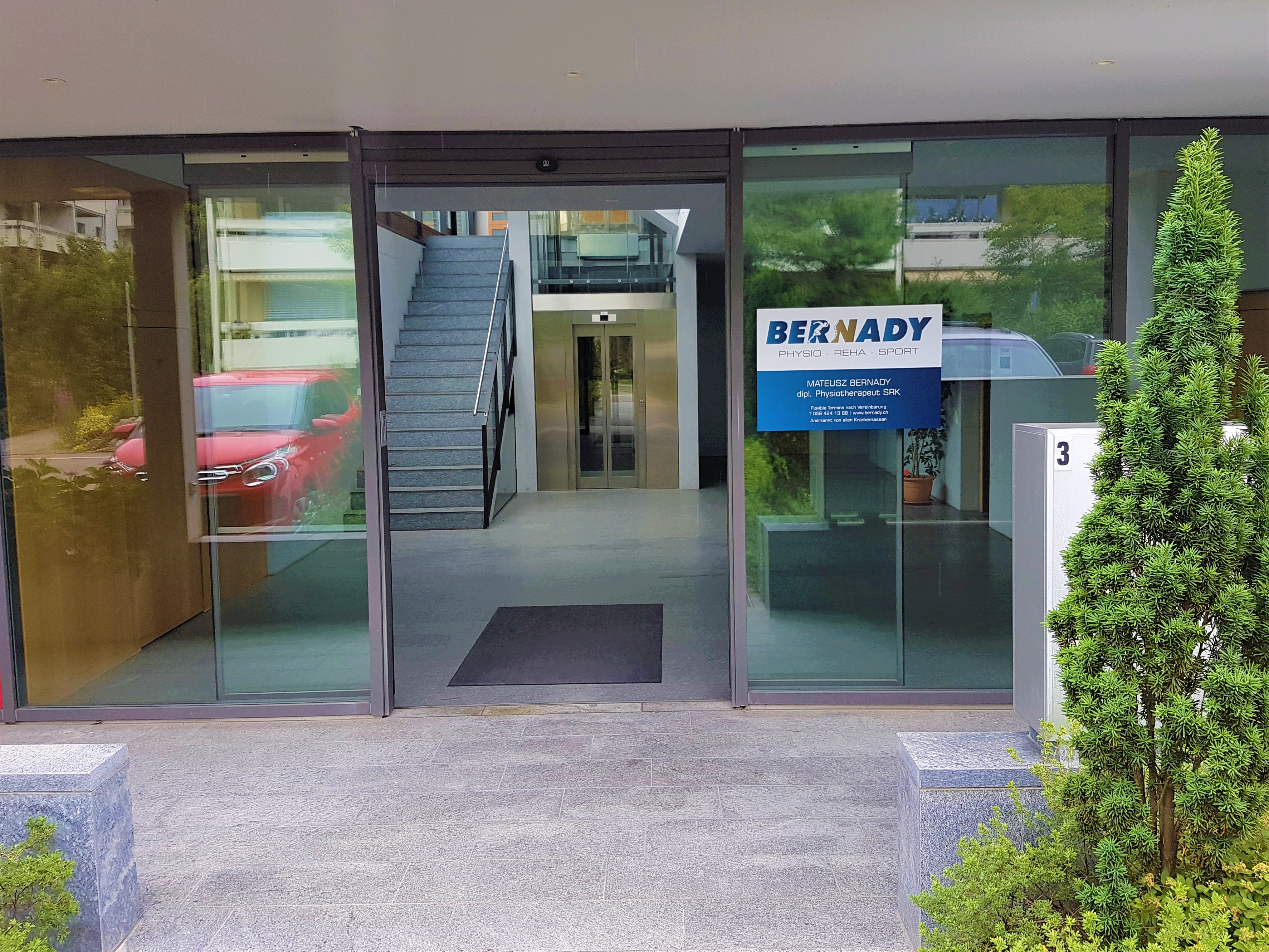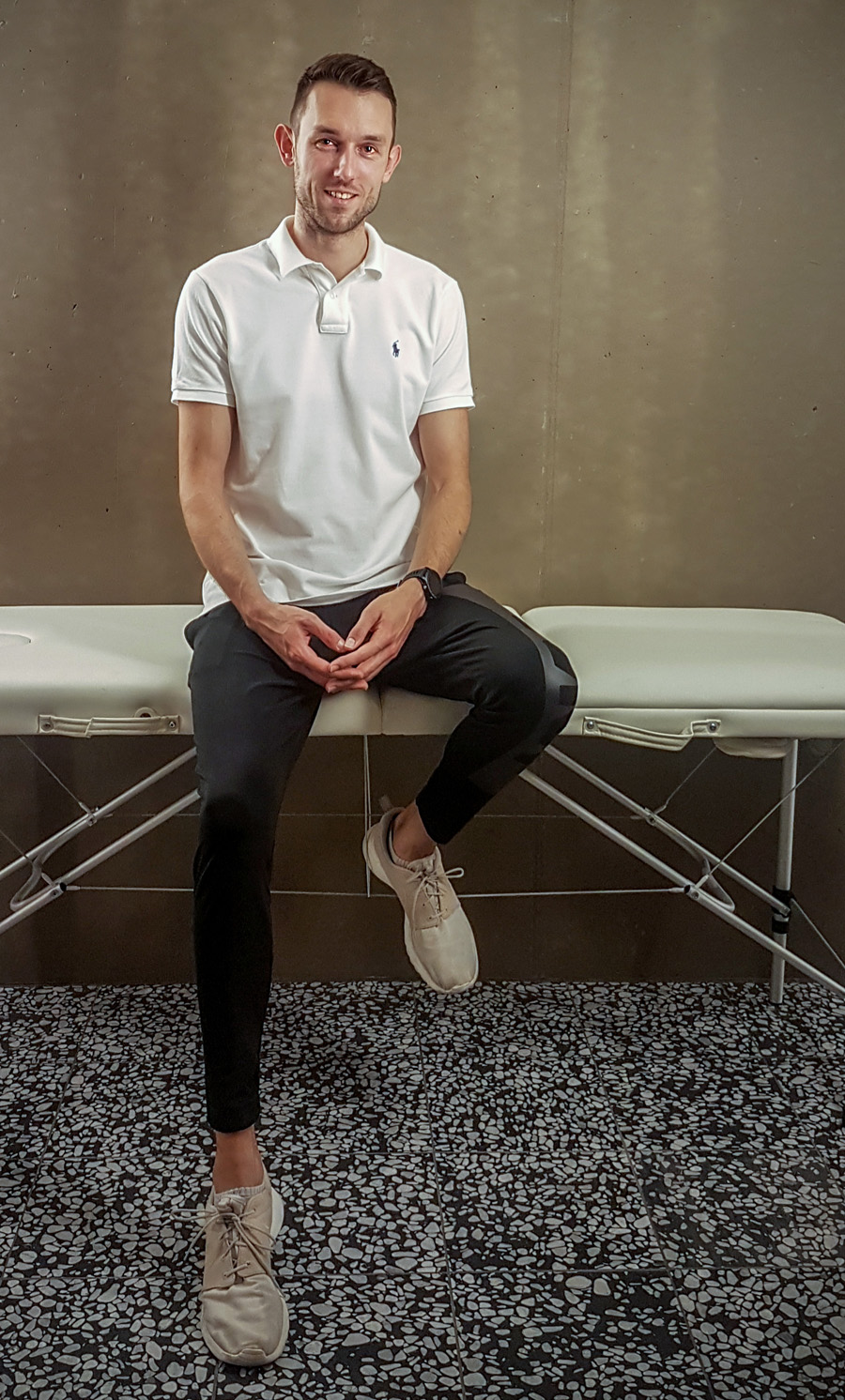 My name is Mateusz Bernady, I am originally from Poland and since 2009 I am working as a Physio.
I am recognized by all health insurances – SRK Anerkennung.
I gained my first valuable experience, as the private hospital. I worked in, had two departments: orthopedic and neurologic. In each of these departments I worked for almost two years.
In 2013 I decided to change workplace, as I was contacted by the new health-promoting fitness center, that was searching for the appropriately qualified physiotherapist. This offer appealed to me as this center shared my vision- to teach people the healthy and safe physical activity so they can enjoy it as long as it is possible.
Since 2015, I'm working in Switzerland – first at a private practice In Spreitenbach then in Geroldswill, each of them for 2 years.
I look after patients with various illnesses, I also deal with MTT, Home visits or retirement home. In my work, I combine various passive methods such as: massage, trigger point therapy, dry needling, Manuel therapy with all sorts of exercise like: pelvic floor training, functional training, cable trainer, etc.
I strongly believe that passive physiotherapy (without targeted exercises) usually does not bring expected results.
Course of Treatment
In the treatment I am interested in the medical history of the patient (anamnesis) to exclude all contraindications. The examination is the most important part of the treatment – for this we need several functional tests to conduct and a lot of experience. Only then can we find out the cause and treat it accordingly. Setting therapeutic goals is done in consultation with the patient or their relatives, according to their needs, expectations, state of health and start treatment.
During the sessions, I regularly examine the patient to review the progress and results achieved and, if necessary, to adjust the treatment plan.
The patient benefits from individual advice for everyday life and often also from learning exercises or postures, which he can perform at home.
What distinguishes me from the others Physiotherapist?
Flexible working hours Mon – Fri 7 – 19, Sat 8 – 14 on request
Home or retirement home visits
In case of emergency first therapy on the same day
Individual care, always with the same physiotherapist
Offer
I look after patients with various diseases. My specialties are orthopedics, traumatology, neurology and amateur athletes. For that I use following methods:
(Click + for more information)
Manual therapie
Manual therapy, also known as manipulative therapy, is a physical treatment that is typically used in conjunction with traditional physical therapy techniques. I will use my hands to apply pressure on muscle tissue and/or manipulate joints of the body, as opposed to using a machine or device. Manual therapy can be quite effective for treating both acute and chronic pain. Optimal benefit is seen when manual therapy is used in conjunction with other therapies such as ice, heat, ultrasound, interferential therapy (ICF), transcutaneous electrical nerve stimulation (TENS), and/or exercise prescription.
The goal of manual therapy techniques is to relax tense muscles and restricted joints in an effort to decrease pain and improve range of motion.
Massage therapy
Massage therapy is the manipulation of soft tissues of the body including, muscles, connective tissues, tendons, ligaments and joints. Massage Therapy is a clinically-oriented healthcare option that helps alleviate the discomfort associated with every day and occupational stresses, muscular over-use and many chronic pain conditions.
Massage Therapy can be used to treat both acute and chronic conditions. Physiotherapist can work with a variety of patient populations in the treatment of illness, injury rehabilitation and disability . Massage therapy can be beneficial to a wide variety of conditions and is a great addition to your everyday healthcare.
In my work I use the followings massages: Relax, Sport, Fascien, Visceral.
Trigger points therapy, Dry Needling
A trigger point is a tight area within muscle tissue that causes pain in other parts of the body. A trigger point in the back, for example, may produce referral pain in the neck. The neck, now acting as a satellite trigger point, may then cause pain in the head. The pain may be sharp and intense or a dull ache. Trigger point massage therapy is specifically designed to alleviate the source of the pain through cycles of isolated pressure and release. In this type of massage for trigger point therapy, the recipient actively participates through deep breathing as well as identifying the exact location and intensity of the discomfort. The results and benefits of trigger point massage are releasing constricted areas in the muscles thus alleviating pain. You can experience a significant decrease in pain after just one treatment. Receiving massage with trigger point therapy on a regular basis can help naturally manage pain and stress from chronic injuries.
Dry Needling
It is a technique that I use for the treatment of pain and movement impairments. The technique uses a "dry"needle,( sterile) one without medication or injection, inserted through the skin into areas of the muscle. Other terms commonly used to describe dry needling, include trigger point dry needling, and intramuscular manual therapy. Dry needling is not acupuncture, a practice based on traditional Chinese medicine and performed by acupuncturists. Dry needling is a part of modern Western medicine principles, and supported by research.
I use dry needling with the goal of releasing or inactivating trigger points to relieve pain or improve range of motion. Preliminary research supports that dry needling improves pain control, reduces muscle tension, and normalizes dysfunctions of the motor end plates, the sites at which nerve impulses are transmitted to muscles. This can help speed up the patient's return to active rehabilitation.
Kinesiology Tape
The Kinesio Taping Method is a rehabilitative taping technique that is designed to facilitate the body's natural healing process while providing support and stability to muscles and joints without restricting the body's range of motion as well as providing extended soft tissue manipulation to prolong the benefits of manual therapy administered within the clinical setting. Latex-free and wearable for days at a time, Kinesio Tape is safe for populations ranging from pediatric to geriatric, and successfully treats a variety of orthopedic, neuromuscular, neurological and other medical conditions.
Kinesio Tape alleviates pain and facilitates lymphatic drainage by microscopically lifting the skin. This lifting affect forms convolutions in the skin thus increasing interstitial space and allowing for a decrease in inflammation of the affected areas.
FMS ( Functional Movement Screen)
The FMS is a seven movement screen that has you perform a combination of common dynamic movement patterns (squat, high step, lunge), a combination of movements to assess mobility of both the upper and lower body, and a combination of movements to assess stability of your body (trunk and rotary).
You are given a score for each component, with a score of 3 indicating that you can perform the activity perfectly, and a score of 0 indicating that it is painful to perform the movement. These are then combined to give you a composite score. All of this takes a total of 10-15 minutes to perform.
Why not "first correct movement quality, [then add] quantity"?
Sport clubs, Teams
I specialize in the care and prevention of orthopedic and sports related injuries with many years of experience in treating athletes from youth to elite amateur and recreational athletes from all sports. Teams and Sport clubs of all ages and abilities can expect sports-specific performance enhancement. I'm committed to the development of the adolescent athlete. Offering individualized care and service. I operates in contrast to the high volume therapy practices that are the norm.
My priority is to restore efficient movement patterns to minimize excess stress that affect a full recovery.
As a Partner you become some extra Benefits such as- Discount on a private Therapy( at my office such as at your Workplace) and Emergency Therapy at the same day.
Home or retirement home visits
Some patients may be too elderly or too poorly to attend my clinic. They may be unable to use public transport or taxis or rely on a relative to travel to a clinic. Travelling to and from the clinic may also be detrimental to the efficacy of the treatment they will receive. The answer? Home visits.
These allow me the opportunity of assessing patients in their own environment. The specific problems they may have as a result of their condition may be identified and addressed. Treatments are provided in the privacy of the home, care home or nursing home, and can restore patient's independence. Many conditions are suitable for home treatments.
FDM (Fascien Distorsion Model)
FDM is presently the most effective manual pain therapy. By means of body language and pain description the therapist is immediately in the position to pinpoint the problem and help the patient with manual techniques. FDM is especially suitable for pain within the musculoskeletal system. Up till now many therapy resistant known illnesses (chronic pain patients) can be successfully treated with FDM. Even after the first course therapists can already implement FDM in their practice. Due to the quick therapy success, FDM has become very popular among athletes. Presently FDM is the fastest growing form of therapy.
Functional training
Functional training helps provide you with the strength, stability, and mobility you need to thrive in your life and sports. You use basic functional movement patterns like pushing, pulling, hinging, squatting, rotating, carrying and gait patterns—walking and running—every day. Functional training utilizes exercises that improve your movement proficiency in these primary patterns to give you an edge so you can achieve your goals safely and with good health.
Fitness professionals typically recommend functional training to pregnant women or clients recovering from injuries or illness as a replacement for standard endurance or strength training. The reasoning is that it's best not to push a person's body to engage in exercise that it can't currently handle.
Flossing
The rise in popularity of floss bands (or compression band therapy, CBT) can be largely due to interest from the Cross Fit world where it is a popular mobility tool for athletes pre competition and training. Potentially, common injuries such as sprained ankles, torn muscles and post-operative surgery stiffness can benefit from such techniques. The proposed benefits include: increasing joint range of motion (ROM), improved muscle mobility, decreasing pain levels, speed up recovery through effect on myofascial release, occlusion and reactive hyperemia.
PNF (Proprioceptive Neuromuscular Facilitation)
It is a physical therapy treatment approach which utilizes functionally based movement patterns with techniques of neuromuscular facilitation. The purpose of PNF is to evoke motor responses and improve neuromuscular control and function. Essentially, PNF is an advanced form of flexibility training that involves both the stretching and contraction of the muscle group being targeted.
It can be used throughout the entire spectrum of rehabilitation, from employing isometrics in the earliest phases of tissue healing to high-velocity, diagonal patterns against maximum resistance in the later phases of rehabilitation.
PNF techniques are used most frequently for injuries of the shoulders, knees, hips, and ankles These techniques are utilized to assist with initiating range of motion, increasing range of motion, decreasing pain, teaching a motion, strengthening, promoting stability, facilitating proprioception, increasing endurance and restoring function.
Running Video analysis
Did you know that a Running Technique Specialist can point out technique errors and tell you exactly what it is costing you in speed? Wouldn't you want to know how much faster you could run your next race? That can be calculated! A trained specialist can also help you fix those technique flaws that slow you down.
Workplace massage
If you are a large business, I can spend a few Hours at once at your workplace. I'm qualified therapists are trained seated massage, wear professional attire onsite and are fully qualified and insured in massage.
I'm totally flexible to fit into your workplace environment. Relax the Staff will come to you at a time that is convenient, with minimal fuss and disruption (some of our clients' staff are happy to give up 15 minutes of their lunch break to avoid any down-time).
You can choose between: Relaxing On-Site Chair Massages or Table Massage.
As a Partner you become some extra Benefits such as:
Discount on a private Therapy( at my office such as at your Workplace)
Emergency Therapy at the same day
Physical therapy
Electrotherapy- also known as electrical muscle stimulation or e-stim, uses an electrical machine that delivers electrical impulses to a patient's body. This stimulation is done in order to promote and facilitate muscle healing and tissue regeneration. Not only is electrotherapy a popular modality in physical therapy, but can also be used by other rehabilitation practitioners because it has several numerous therapeutic benefits.
Ultrasound therapy (US)- is the use of sound waves above the range of human hearing to treat injuries like muscle strains or runner's knee. It is mostly used by physical therapists, and has been one of the Greatest Hits of musculoskeletal medicine since the 1950s. There are many flavors of therapeutic ultrasound, using different intensities and frequencies of sound, but all share the basic principle of "stimulating" or even provoking tissue with sound waves above the range of human hearing. Vibration therapy, in other words.
Shock wave therapy (ESWT)- Shockwave is an acoustic wave which carries high energy to painful spots and myoskeletal tissues with subacute, subchronic and chronic conditions. The energy promotes regeneration and reparative processes of the bones, tendons and other soft tissues. Shockwaves are characterized by jump change in pressure, high amplitude and non-periodicity. The kinetic energy of the projectile, created by compressed air, is transferred to the transmitter at the end of the applicator and further into the tissue.
Thermotherapy( Fango, Infrared lamp)- is the use of heat in treatment. Applying heat to an area increases the blood flow, bringing along proteins and oxygen. The overall benefits of heat therapy are very prevalent. This therapy method is great to decrease joint stiffness, reduce pain and inflammation, relieve muscle spasms, Soreness, and Soothe Body Stiffness.
Manuelle Therapie nach IFOMT Richtlinien. Stufe A Kurse: EB 27-30.10.2010,
EII 26-29.01.2011, KI 13-16.05.2011, KII 01-04.09.2011, K III 28.11-01.12.2012 EIII 01-04.12.2011, EM 07.03-10.03.2012
Anwendung von Mobiderm Bandage in der Lymphanschwellung 26.01.2010
Sporttape in der Rehabilitation 22.06.2010
Stabilität-Instabilität, Kompensatorische Bewegungsschemas 20-21.05.2012
Zentrale Stabilität-Instabilität. Module I und II 09-10.06.2012
Instrukteur von Gruppen-Nordic Walking 08.09.2012
Kinetic Control Centrale Stabilität 22-23.09.2012
Kinesio-Tape-Grundkurs 06-07.10.2012
Persönlicher Trainer 01-08.08.2012
Kinetic Control in Sport 21.10.2012
Diät und Nahrungsergänzungsmittel 06-07.04.2013
Summer Session, Basic Personal Trainer 13-14.04.2013
Prä-und Postnatales Training 20-21.04.2013
Basic Personal Trainer 06-09.08.2013
Medical Trainer 22-23.03.2014, 29-30.03.2014
Instrukteur von Kettlebells und Sportgymnastik, Crossfit Mjolnir 16-17.02.2013
Instrukteur von Crossfit, module I, II 22-25.05 2013, 21-24.06. 2013
EasyFlossing, Frei Swiss AG, 09.04.2016
Manuelle Triggerpunkt-Therapie IMTT Modul 1 10-14.10.2016
Dry Needling IMTT DN1 26-28.02 2017
Workshop- Myofasciale Entrapment der oberen Extremitäten 24.04.2017
Workshop- Myofasciale Entrapment der unteren Extremität 24.10.2017
Osteopatische Techniken Modul I 02-03.02.2018
Manuelle Triggerpunkt Therapie- Nacken und Kopfschmerzen 27-28.04.2018
Osteopatische Techniken Modul II 16-17.06.2018
Manuelle Triggerpunkt Therapie- Achillodynie, myogener Fussschmerz 17.09.2018
Fascien Distorsion Model, Intensivkurs bei Acu Max 19.02-13.04.2019
Dynamic Flossing Stufe I 14.04.2019
Sport Physiotherapie bei ESP 3.06.2019-8.03.2021
Your first visit
Many patients who are in physiotherapy for the first time do not know what to expect and what the standard should be. With this post I try to clarify this. I recommend coming a few minutes earlier to rest and prepare for treatment. If you have documentation related to your complaints, please bring it with you.
Also X-rays or CT / MRI documents are important to me. I recommend putting on comfortable sportswear and sneakers.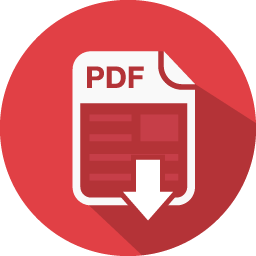 FAQ
Questions about the prescription
Click + for more information
How do I get a therapy prescription?
Just contact your doctor.
My doctor has issued me a physiotherapy prescription. May I decide for myself where I want to go for therapy?
In Switzerland, the free choice of therapist applies. This means that regardless of your insurance status, you are free to decide for yourself at any time where you want to be treated. This also applies if your doctor has explicitly referred you to a specific therapist. You need to remember that massage is not paid by the basic insurance and therefore cannot be prescribed. With your prescription you can go to a physiotherapist instead of a masseur.
Can I also use physiotherapy without a doctor's prescription?
You can request a physiotherapeutic treatment or medical report without a referral. The payment conditions and the further procedure will be discussed with you.
How long is my physiotherapy prescription valid?
A physio regulation is valid for three months. However, you should have booked your first appointment within five weeks of the date of issue. Should your prescription expire during therapy, I will gladly assist you in organizing a new prescription.
Can I use the regulation in several practices?
The prescription can be used in several practices, for example, if the first practice has used 3 therapies, the second practice can use the remaining 6 therapies. At the same time, the regulation can only be used in one practice.
Questions about payment and bill
Click + for more information
May I cancel or postpone an appointment that has already been agreed?
Of course. However, I ask you for early notification so that I can open time slots for other patients. For cancellations that arrive less than 24 hours before the therapy, this is unfortunately no longer possible. Therefore, I have to charge you for short-notice canceled appointments.
Is the bill of physiotherapy going to me?
The bills of physiotherapy treatments go directly to your health insurance or accident insurance.
How much do I have to pay myself?
By accident (SUVA) you will not be charged for any costs. For health insurance costs this depends on the amount of your franchise.
The health insurance will charge you 10% of the physiotherapy costs. This is the normal approach for outpatient treatment as it is for doctor or hospital costs.
If you have a high franchise and this has not yet been reached, the health insurance company will charge you for the costs of physiotherapy.
For how many treatments do health insurances(Krankenkasse) / accident insurances cover the costs(SUVA) ?
The health insurances and accident insurances take over a maximum of 4 series of 9 treatments a year according to the physiotherapy collective agreement, whereby the necessity and economic efficiency must be proven. In most cases, further treatments are possible when a medical examination has been conducted, with the frequency and maximum number of treatments usually being fixed- Langzeitbehandlung.
Are the costs of a physiotherapy treatment time-dependent and measures dependent?
No. Since 1998, the new KVG and the new Physiotherapy tariff came into force, dipl. Physiotherapists with flat rate. This means that the cost of the services provided does not depend on the duration of the individual treatments and not on the number of measures taken.
How often do I have to go to physiotherapy?
It depends on the severity of the problem you come to me with, as well as the healing process. On average, 15 to 18 therapy sessions are necessary. As a rule, two therapy sessions take place per week. Besides, it is not necessary to use the whole prescription till the 9th appointment. The treatment can be completed after any number of therapies.
How are the therapies charged in the event of a health insurance change?
The regulation will simply continue to be used at the turn of the year. The dates in the old year will be charged with your old insurance, the appointments in the new year will be charged with your new insurance.
Are treatments possible at my own expense?
Yes. In this case, I will send you the invoice directly. The payment conditions and the further procedure will be discussed with you.
Am I entitled to the number of treatments prescribed by the doctor?
The number of treatments (usually 9 times per series) is a maximum number, which is taken over by the health insurance and accident insurance. The doctor then determines, in consultation with you and your physiotherapist, whether the physiotherapy should be continued.
Questions about physiotherapy
Click + for more information
Are you accredited by SRK ?
My practice is accredited by all Swiss health insurance and accident insurance. The costs of medically prescribed physiotherapy are covered by all health insurances and accident insurances.
In the first therapy session was almost only talked. Why does not the therapy last longer?
The basis of a successful physiotherapy is a detailed findings interview, in which I go to the bottom of your pain and design a treatment strategy. For that I need a lot of information from you, and that takes time. I will be happy to start the actual therapy immediately after the interview if the Time let me. Unfortunately the current tariff contract, which is binding for all physiotherapists, allows a maximum of one treatment per day and per case.
How long does a physio treatment take?
One treatment takes 25 to 30 minutes, including getting undressed and getting dressed. For the appointment at the reception please plan a few minutes in addition.
Do I have to do exercises at home?
Targeted training can depending on the nature and severity of the disorder greatly improve the healing process. Therefore, if you do exercises in addition to individual therapy, recovery can be faster. But I also realize that a home program is only as good as it is implemented. I will therefore recommend exercises that are feasible for you (targeted exercises).
Questions about Home care, nursing home
Click + for more information
Do you come to my home for a treatment?
Of course. If the visit to the practice is not possible for reasons of health, the doctor can prescribe a so-called Domizielbehandlung, in which the insurance accepts a travel allowance of about 30 francs.
In which locations and neighborhoods do you offer home care?
The travel allowance, which the insurance covers, is about 30 francs – regardless of the distance between practice and place of residence. Your address should be reached in twelve minutes.
Costs, Vouchers
The treatments at your own expense are also possible. In this case, I will send you the invoice directly. The payment conditions and the further procedure will be discussed with you.
Prices without medical prescription:
Physiotherapy / Massage
30 min –  65  CHF
60 min – 120 CHF
Massage vouchers – give someone a bit of relaxation.
It's time again, the birthday of the dear friend or nice colleague is just around the corner and you still have not found a suitable gift. It should be something that brings joy and ends up not just as a dust catcher on the shelf again? Then give it a little rest and relaxation